Please join us for our second annual Literary Ball. Come dressed as your favorite character from your book of choice (fiction or non-fiction).
Last year was a delight, as nearly everyone came in costume. We met Lucy Pevensie (and her twin!), Mr. McGregor and his crew, Anne Shirley, and at least one Hobbit-ish figure (perhaps they reused their costume from our annual Hobbit Ball…) among many others.
We enjoyed giving away two prize packs, each containing an audio book from Focus on the Family; The Hiding Place, by Corrie Ten Boom, accompanied by a stolen ration book, and a German pound-cake loaf (the last one the Ten Booms would have eaten before Germany was occupied), and The Lion, The Witch, and The Wardrobe, by C.S. Lewis, along with a large box of Turkish Delight.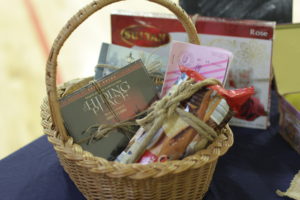 Here are three things to do before the ball:
THE HARDEST PART: Pick one character from your favorite book. (Yes, just one people, unless you're game for a costume change part-way through the evening.)
THE CREATIVE PART:Â Find yourself a costume (view our guidelines here), do your hair ("Hey Siri, How do you grow a beard in three weeks?"), and pick out the perfect accessories!*
THE SOMETIMES-MENTALLY-TAXING PART: Not forgetting to bring your character's book of origin to the ball; we'll display them on a table to see who all came!
We hope you'll join us in three short weeks on April 7th!
*Old Dominion Dance does not recommend dancing with swords, daggers, or any sharp-pointy objects (this also includes heels to some extent).