We're often asked about the dress code for our dances. We're not that picky, usually. Most of our dances are casual dress in a relaxed atmosphere. At our formal dances we welcome historical costumes and nicer church-going clothes.
Well.
The Fezziwig Ball is different. We didn't fork out hundreds of dollars in greenbacks so you could wear jeans to the Lauritzen. This time, when we say formal, we mean formal. There will be quite a few people in costume and at least a few ladies in evening gowns. The OldDD Performance group will be dressed in Regency era garb: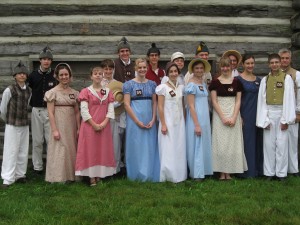 These are probably the simplest costumes to sew.
So when dressing to attend Omaha's premier English Country Dance event, bear in mind you are one of a small number of people privileged to participate in the Fezziwig Ball. It's a special event, so dress accordingly.