OldDD's next dance is Friday, March 14th, and looking ahead we have a special event coming up:
Old Dominion hosts an Edwardian Ball
Friday, April 11th
7pm-9:30pm
St. Mark's Lutheran School Gym
$5 per person or $20 per family
Live Music by The Band
BEGINNERS and COSTUME APPAREL welcome.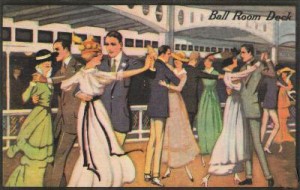 Why Edwardian?
The Edwardian era was a pivotal point in history! On April 15th, 1912 the RMS Titanic sank to the bottom of the Atlantic. Two years later the Great War broke out across Europe. The Edwardian era also brought about a revival of English Country Dance with Cecil Sharp's re-publication of several ECD manuals in 1909.