I am very much looking  forward to our Spring Formal. Last April we danced at this historic barn, which is no longer available due to new fire code regulations. This year we celebrate the blessing of our new permanent home at St. Marks' Lutheran School with drinks, drawings, and live music.
So pull out your odd bits and bobs and come in costume! It doesn't have to be historical; it can be movie based, ethnic, or just plain fun. As long as you're covered, we're happy.
During intermission we'll have a drawing for Fain Music's "Pride and Prejudice Vol. 3," a CD of dance tunes that includes Dressed Ship, Mr. Isaac's Maggot, and Row Well ye Mariners.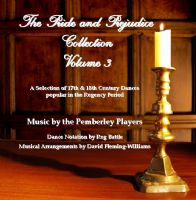 Look for the April 12 dance card to be posted this week.