Oh!  But he was a tight-fisted hand at the grind- stone, Scrooge! a squeezing, wrenching, grasping, scraping, clutching, covetous, old sinner!  Hard and sharp as flint, from which no steel had ever struck out generous fire; secret, and self-contained, and solitary as an oyster.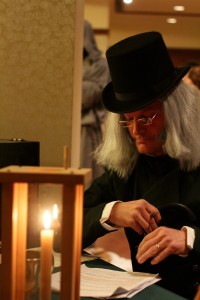 A frosty rime was on his head, and on his eyebrows, and his wiry chin.  He carried his own low temperature always about with him; he iced his office in the dogdays; and didn't thaw it one degree at Christmas.
Come see Scrooge at the Fezziwig Ball Nov. 30th- Register Now!