Dancers dancing. The dance was held in a section of the Strategic Air and Space Museum's large hanger where the history festival was held. The floor was very slippery, so some people(myself included) decided going barefoot was better than cracking thier heads on the floor, but the floor was also FILTHY.
Jen calling. A good bio picture, I think. Unfortuntely no pictures of me survived.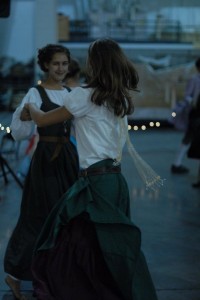 I have to say, these are not my pictures. I stole them from here and there. I do have the official pictures(also not taken by me) which I hope to post soon.